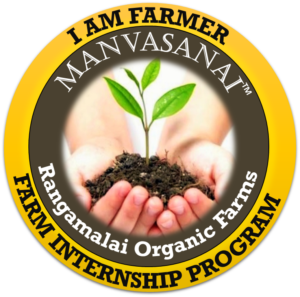 LIVE AS FARMER TO BECOME A FARMER
The goal of this internship program is to achieve win-win state for both farmers and the interns/Volunteers. During the internship program, the interns stay with us at the farm, live as farmer and manage the farm operation end to end themselves, thereby the interns learns and gain confidence to build and manage his/her own farm in future. Lead a self-sustainable farming and living.
How does this internship help you?
This internship program would give the interns detailed insight and field experiences on:
Holistic approach to manage and maintain a fully integrated self-sustainable natural operational farm.
The interns can experience the natural farming as a way of life. Healthier lifestyle with good physical work, good natural organic food and good sleep.
Hands on experience in micro irrigation and farm mechanization tools.
Learn and practice organic natural farming techniques and best practices.
Organic manure, Fertilizer and pest repellent preparation to manage pest and diseases.
Learn and practice seed collection, segregation, process, classification and indigenous storage methods.
Values of Self Sustainable farming and living.
Learn how to lead a minimalistic lifestyle and choose natural alternatives for their personal needs.
Interns would be involved in Natural buildings being constructed at the farm. (Based on the ongoing projects)
Value addition of farm products, packaging and direct sales and marketing as farmers.
Learn Direct Marketing – Opportunity to grow, value add and sell the product directly to customers.
Farm visits to other nearby farms to learn different farming best practices.
Participate and organize Farm workshops and Seed Festivals happening in-house.
Learn about local medicinal herbs to heal them from injuries and ailment.
Manage and operate Farm Stores and Seed Bank.
Will get opportunity to manage animal husbandry at the farm and make value added products from them.
Periodic mentorship from the farm expert team at the farm.
Program Duration: 30 to 45 days or Longterm – 3 months
Participants: 1 to 3
Accommodation: We provide basic accommodation at our farmhouse. (Natural Building with tiled or Thatched roofing
Food: We do provide them kitchen space with basic organic groceries such as organic traditional rice, millets and vegetables from our farm but its subject to availability. Interns need to self-cook during their stay. They can also purchase the vegetables from local Farmer's market.
Internship Fee: We charge a nominal fee of Rs.6000 per month for overall farm internship training, food and farm accommodation. Please note the fee is non-refundable after joining us in the program.
Internship Selection Process:
Interns submit the required details in ROF FIP Registration Online Form.
We review the submissions and contact the applicant for further discussions to explain our farm terms and agreement.
The selected applicants make the fee payment online and confirm the date of joining, so we could plan and accommodate them in appropriate batches.
Who can Apply?
Anyone who are passionate towards natural farming and living are welcome.
Parents with kids who wish to expose their kids to sustainable living and teach them the key life skills.
Anyone who have a positive attitude, open mind to take up farm challenges and can spend more time on field work.
We welcome students, professionals and interested farmers who would like to career orientation towards to become a farm consultant,
We expect the interns to have prior understanding about the fundamentals of natural farming learn through training's, workshops or self-learning.
IMPORTANT NOTICE:
The intern would be managing the entire farm and its operations from the grass root level during the internship period. Like managing cattle, poultry, seed bank, Farm store, farm work, packaging, marketing and supervising etc.
We expect the interns to have an open and positive mindset to take up challenges at the field and work towards the solution.
For safety, interns much bring the following:

Please carry your emergency medicine if and when required.
Carry your own hat, garden glove and gum boot
Please carry your own water bottles, blanket, bed sheets and towel.
To document work, please carry your laptop with internet dongle. (Only Airtel works fine).
Farm Internship Certificate: We issue "ROF – I AM FARMER" certificate for the candidates who successfully complete the internship program.
UPCOMING ROF FIP BATCH:
ROF Farm Internship Program (FIP) Batch – 26 (June-July 2023)
Program Highlights:
Apart from the regular routine farm works, interns would be majorly working on the Community Seed Bank, Farmer Market, Nursery design and Permaculture Food Forest.
Experience a true self sustainable farming and living in harmony with Nature and Animals.
Rejuvenate your body and mind by having home grown organic food during the stay.
ROF Farm Internship Program (FIP) Registration Link
We will review your registration details and contact you for further discussion.
For more information: Whatsapp at +91- 866 097 4096 or mail us at [email protected]
ROF FIP MEDIA GALLERY
Click on the below appropriate FIP Batch links to learn more about major activities done during the internship duration.
Farm Internship Program (FIP) Batch – I
Farm Internship Program (FIP) Batch – IV
Farm Internship Program (FIP) Batch VI
Farm Internship Program (FIP) Batch – VII
Farm Internship Program (FIP) Batch – IX
Farm Internship Program (FIP) Batch -X
Farm Internship Program (FIP) Batch -XI