With our 7+ years of Natural Farming, self learned Knowledge and Experience, we offer farm consultation services to our clients who wish to build their dream self sustainable Self-reliant natural farm to grow their own food and contribute to the society.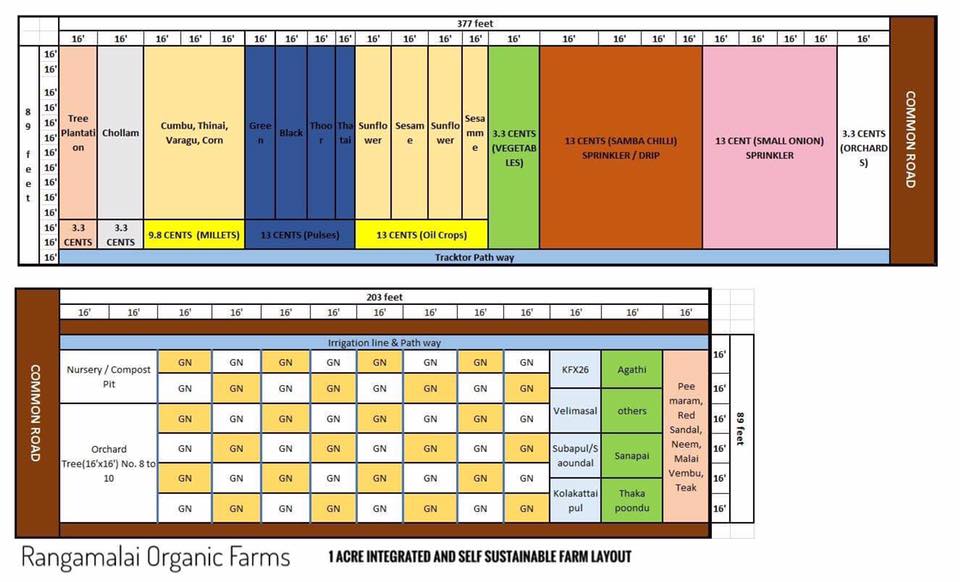 Major Challenges in Farming Today:
Depleting ground water & Unpredictable Environmental Factors (Rain/Climatic conditions)
High input cost for Seeds & Fertilizers
Disease and Pest management
Weed management
High labor cost and scarcity of skilled farm workers.
No steady monthly income.
High operation cost and Low profit/loss.
ROF Farm Consultation Benefits:
We help you Design your Dream
We help you building a Self-Sustainable, Self-Reliant, Off Grid Farming & Living.
We help you build a fully integrated self sustainable permaculture based farm with minimal farm maintenance and low operation cost.
We provide solutions to majority of farming challenges.
Help you to grow your own food
Guide you to generate a steady farm income month over month through farm value added products and Direct Marketing.
What we offer?
Permaculture based Farm design plan as per client requirement.
Customized Farm Irrigation design plan based on the client requirement.
Guidance on setting up a cattle farm, Biogas digester, Biofertilizer plant, Nursery and Seed bank making the farm self-reliant.
Farm mechanization ideas to effectively manage weeds, fertigation and harvesting.
Guidance on raising heirloom vegetable farm, Food Forest, and productive natural Living Fence.
Guidance on Water harvesting techniques to store and recharge ground water.
Guidance on Value added farm products and marketing options.
Farm Irrigation automation and remote management ideas and design plan.
We would guide micro irrigation and automation service providers over phone, so they implement their solution as per farm design plan.
Information about various government subsidy schemes available for farmers.
Other Value Added Farm Consultation Services:
Farm Tour: One day guided farm tour to our fully integrated Natural farm. Experience yourself a real self-sustainable integrated revenue generating farm in operation. Our expert team would be explaining you the various farm modules and their operations & management followed by Q&A section.
Natural Farming Workshop: We provide 2 days hands on In-house training program to the interested Farm Owners or farm workers on the below natural farming best practices, so they can learn and practice the same at their farm.
Introduction to Self-Sustainable farm and living.
Seed Preservation and Storage methods & best practices
Biofertilizer, Organic Manure and Pest repellent Preparation
Weed and Pest management.
Natural Farming methods and best practices.
Farm Value Added Products & Direct Marketing
Native Breeds of Cattle & Poultry: We help clients to buy pure native breeds of cattle and poultry breeds for their farm.
Heirloom Open-Pollinated Seeds Client can buy native varieties of vegetable, fruits, millets and paddy seeds, seedlings and live plant cuttings from our farm and community seed bank.
Consultation Mode:
We provide the consultation services through Teleconference and Zoom call.

1st meeting: Understand client requirements, land details and discussion around different offerings as part of consultation
2nd meeting: Farm design plan discussion and farm consultation
3rd and 4th meetings based on client requirements and progress.

One time farm inspection is done to understand the soil, terrain, water pressure, wind direction, farm design layouts.
We provide guidance to the micro irrigation and automation service providers over phone, so they implement their solution as per our farm design plan
Consultation Fees: To obtain this consultation service and further details, please reach us in +91-8660974096 or email us: [email protected]