RANGAMALAI ORGANIC FARMS (ROF) – MANVASANAI
Farmers Market | Community Farming | Direct from Passionate Farmers to Consumer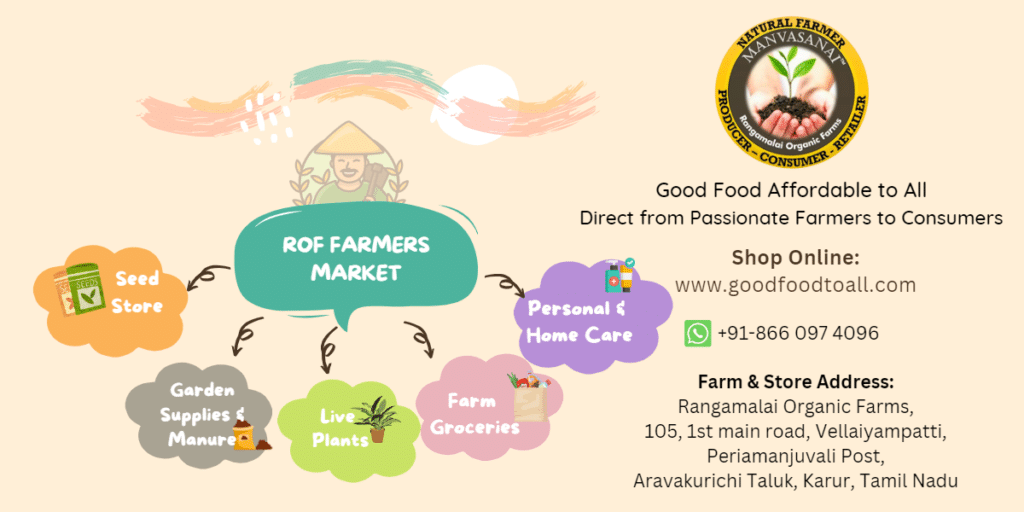 As a farmer, we sell all our quality poison free natural farm produce and the value added products through our registered brand name "Manvasanai" through our web store [https://www.goodfoodtoall.com] directly to consumers. All the our products are grown and cultivated at our organic farms grown using natural farming methods. Our products are 100% natural, well known for their great taste and natural aroma. We use only organic manure such as bio gas slurry and herbal pest repellent sourced from our native cattle at our farm. We grow our own good quality food and sell the surplus to the society.
NOTE: Some of the products like Raw Forest honey and few native rice varieties are sourced directly from tribal community of Sirumalai and other natural farmer community respectively.
All our products are free from harmful chemical fertilizers, pesticides, additives and preservatives.
UPDATE FEB 2020: WE ARE HAPPY TO ANNOUNCE THAT WE ARE OPENING OUR FIRST FARM STORE AT OUR FARM IN KARUR, TAMIL NADU FROM 9th FEB 2020.

Note: You will be redirected to our web store www.goodfoodtoall.com