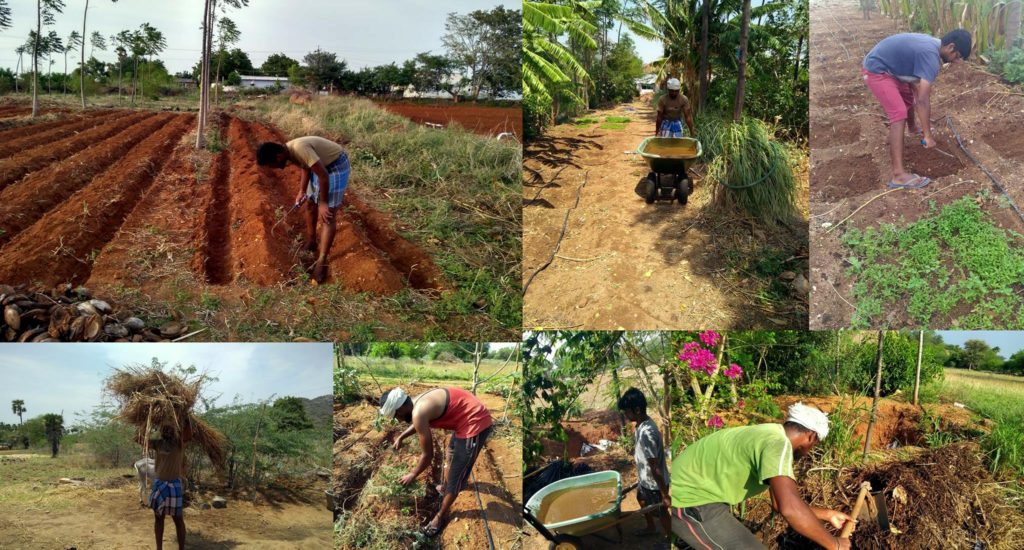 The goal of this internship program is to achieve win-win state for both farmers and the interns/Volunteers. During the internship program, the interns stay with us at the farm, lives as natural farmer and manage the farm operation end to end, thereby the interns learns and gain confidence to  build and manage his own farm in future
How does this internship help you?
This internship program would give the interns detailed insight and field experiences on:
Holistic approach to manage and maintain a fully integrated organic farm.
Experience the natural farming as a way of life.
Hands on experience in micro irrigation and farm mechanization tools.
Learn and practice organic natural farming techniques and best practices.
Organic manure, Fertilizer and pest repellent preparation.
Seed collection, segregation, classification and indigenous storage methods.
Values of Self Sustainable farming and living.
Workshop on Natural building
Value addition of products, packaging and direct sales and marketing as farmers.
Opportunity to grow, value add and sell the product directly to customers.
Farm visits to other farms to learn different farming best practices.
Duration: 30 to 45 days
Participants: 1 to 2
Fees: No fee is collected, but a very nominal amount for food might be charged.
Who can Apply?
Anyone who are passionate towards natural farming and living are welcome.
We welcome students, professionals and interested farmers.
Note:
The intern is expected to have an open mind to take up challenges at the field and work towards the solution.
The intern would be managing the entire farm and its operations from the grass root level during the internship period. Like managing cattle, poultry, seed bank, farm work, packaging, marketing and supervising etc.
For safety, interns much bring the following:

Please carry your emergency medicine if and when required.
Carry your own hat, garden glove and gum boot
Please carry your own water bottles, blanket, bed sheets and towel.
To document work, please carry your laptop with internet dongle. (Reliance Jio works fine).
For more information: Call us at +91-8105311882 or mail us at info@manvasanai.in
Photo & Video Gallery:
 Farm Internship Program (FIP) Batch – I
Farm Internship Program (FIP) Batch – IV
For Registration: Click here to register yourself for the Farm Internship Program.