Our Farm Initiatives & Services
Weekend Farming & Farm Visits
We spend most of our weekends in our organic farm.. These 2 days, we get away from city traffic, noise, pollution, smartphones, whatsapp, internet..etc. we spend time for ourselves and live in harmony with nature. This helps us beat stress, calms mind and body, recharges us to handle the busy week ahead. We also welcome friends and like minded people to visit our farm during the weekends and spend a quality time together and exchange leanings and experience.
Rearing of Indian Native Cattle &  Poultry

 
Initiative to raise a cattle farm with some of the Indian native cattle breeds like Kangeyam which is native to our region. Without the cattle any agricultural farm is incomplete. We have Kangeyam Stud Bulls and cows gracing our field. Their droppings fuel our farm and make our soil lush and fertile.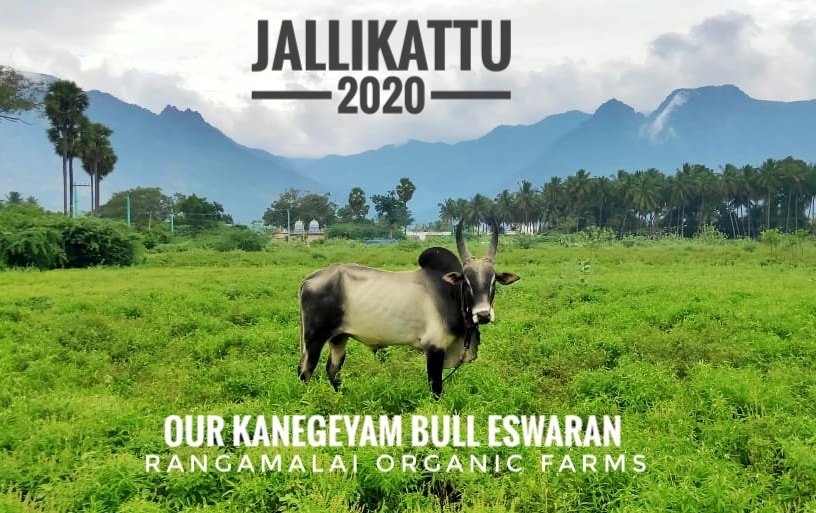 We also raise few indigenous Indian native chicken breeds in our backyard poultry farm.. Breeds include Turkey,  Asil (Fighter cock) and Kadaknath (Black meat chicken)
 

Community Seed Bank for Native Seed conservation and propagation
An initiative to collect, propagate and exchange indigenous and rare native varieties of vegetable & crop varieties of India. Our vision is to restore and popularize our vast bio diversified heirloom varieties of vegetables and crops among Indian farmers and home gardeners. We started raising this seed bank from some the indigenous native seeds collected across India. We collected close to 180 rare and indigenous vegetable seed varieties so far and search is still on. We would like to thank local farmers and other like minded friends who helped us in our seed collection journey
In January 2017, we started our first of the kind organic plant nursery to promote and propagate native vegetable saplings to interested farmers. We raise saplings of native varieties of Brinjal, Tomato, Red Chilli and Okra and sell it to interested farmers to restore the dominance of native vegetables in the market. Through this initiative we believe that every farmer would regain their seed sovereignty.
Natural Green Building – Community Seed Bank for Heirloom Seeds 
This proposed Community Seed Bank project is constructed with 100% natural building materials which is locally available to preserve and propagate native (Heirloom) seeds of India. we would be using our traditional indigenous techniques and methods to preserve these seeds. Through this project we would like to propagate our native seeds to farmers and home gardeners.  Create awareness about native seeds, rich biodiversity of India and about breathable green buildings to students, farmers and consumers.
Thanks to Thannal Hand Sculpted Homes, Thiruvanamalai for en-lighting us with the knowledge on natural cob buildings.
 Organic Fertilizers & Pest Repellent
We produce our own organic fertilizers and Pest repellent prepared from the droppings from our Cattle/Poultry &  from farm residues.
We make organic manures such as Biogas slurry,  Pest Repellant,  Fish Amino Acid,  Egg Amino Acid. We create awareness, promote and teach the local farming communities on the preparation methods.
Barren Land to Food Forest
An Initiative to convert the barren lands to a dense self sustainable food forest.
Planted close to 1000 trees in 2 acres land converting barren farm lands to everlasting food forest.
Farm Design & Consultation
 We combine our Indian traditional farming best practices and some of the latest agricultural technologies such micro irrigation and farm automation to efficiently manage irrigation and combat the expensive labor issues.
We train and provide consultation to the farmers about micro irrigation and farm mechanization & automation, which is the need of the hour.
ROF Farming Internship program (FIP)
The intention of this farm internship program is to achieve win-win state for both farmers and the farm interns/Volunteers.
During the internship program, the interns stay with us at the farm and they get an opportunity to live as farmer and manage the farm end to end operation themselves.
This one month internship would give them detailed insight and field experience, confidence and decision making in their future farming en devours. This program also would teach them the following:
 Farming as a Way of Life. 
Managing a fully integrated organic farm. 
Organic natural farming techniques and best practices. 
Organic manure, Fertilizer and pest repellent preparation. 
Seed collection, segregation, classification and storage. 
Value addition of products, packaging and direct marketing as farmers.
Decision making skills to take forward farming or not.
Click here for more information
Farm Education Service 
We document all our natural farming farm activities, best practices and leanings in the form of photos, videos and articles in our Facebook page and websites with an aim to educate the new generation young farmer or farming aspirants.
Our Facebook Page: https://www.facebook.com/RangaMalaiOrganics/ 
Community Farming and village micro economy
---